Strawberry Festival  & Marketplace Vendors 2023
CHECK OUT OUR AMAZING VENDORS!
2 Sisters Inspired Boutique
Aks Homemade Treats LLC
Amway: Vang Intl LLC
Angie Koebler PETALS
Astrostardust
Ballerina Botanicals
Begonia & Bench
Belle Via Jewelry
Ben's Wife Made Treats
Berkenes Boutique
Beverley's Jewels
Beyond the Knots woodworking
Blooming Brightly
By Mary Makes
Cliff and Floyd
Creations Unlimited
crosses4causes
Currents Structural & Medical Bodywork
Cutco Cutlery
Dars Scented Biz
DC Customs LLC
Embrace Our Souls
Emma's Accessories
Events by Jody
Fix Your Feet
Ghastly Good Skin care
GLG Jewlery & Agetes
Green Girl Grower
Guileless Green
Haack Shack Designs
HAPPY TIME TRAVEL
Heavenly Hair Gems
Hennum's Homemade
Homemade by shari
JD's Salsa in Seconds
Jen's Homemade Pup & Kitty Treats
Jewelry by SLH
just fudge
KarmaRoatan
Kittyhawk Krunch
Krustyz LLC
Lokal Vintage
Lori's Crafts
Mad City Windows and Baths
Made by a red- haired grandma
Mere of all Trades
Mina Mae's
Minnesota Engraving LLP
Mixly Cocktail Co.
Norse Wood Designs
Northern Home Candle Company
Norwex
Optimal Life Chiropractic LLC
Paradise Popcorn Co
Parkview Chiropractic
Paula Sabores Argentinos
Photo Letter Project
Pine Ridge Parlor
Raku Nature LLC
Randy's Rocks, minerals and jewelry
Raucous Jewelry
Ruby's Pebble Art
Shane Hudak Photography
Shutter Valley Photo Booth
Simple Seventeen
Sweet Mana
tammys treasures
The Gathering Learning Studio
The Gathering Stones
TJs Trove
Trailblazer Food Co
Trinity Exteriors Inc
Usborne Books & More
Wayfarer Candle Company
Wildflower Co.
Willows Coffee
Windmill Pantry LLC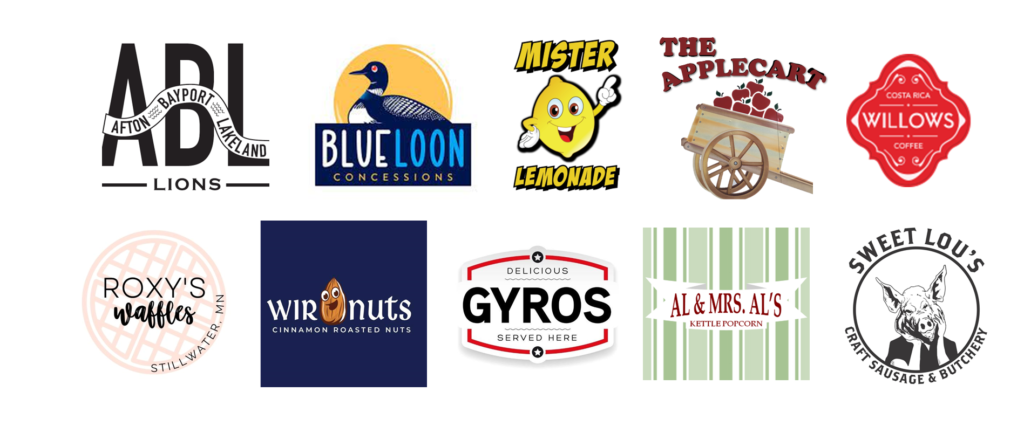 Interested in becoming a vendor? 
Artist, Makers, Cottage Food, Vintage, Vendor Info
Food Vendor Info
Business, Consultant, Wholesale Vendor Info
Great opportunity to advertise.
Many levels of sponsorship are available.
If you are interested in becoming a sponsor email!
aftonstrawberryfestival@gmail.com